7 Reasons to Use Avocado Oil for Hair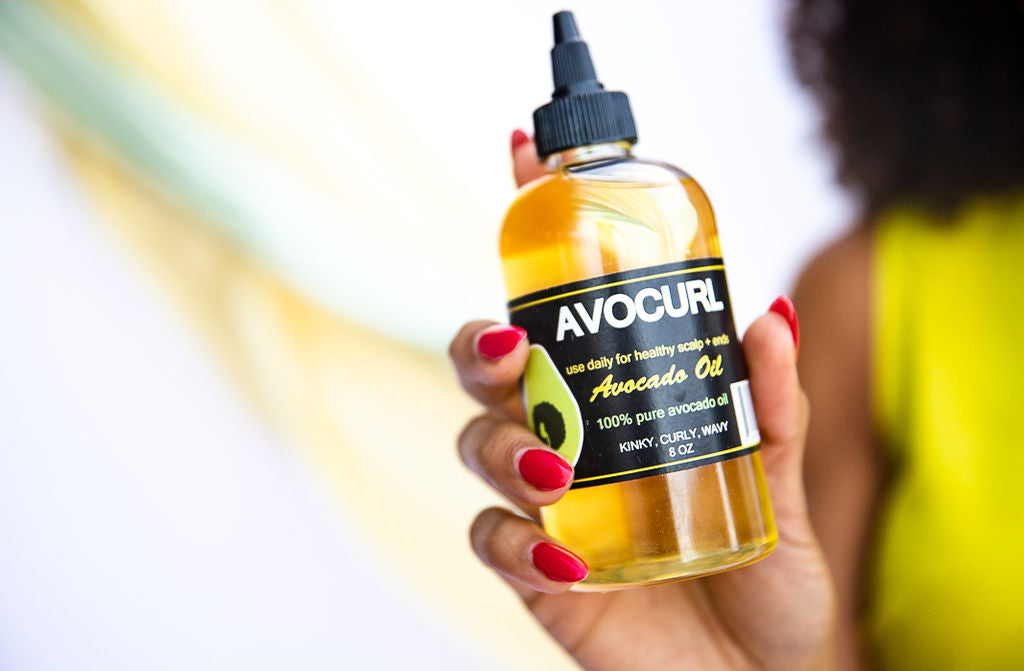 Let's deep dive into the benefits of avocado oil for hair. Avocado is one of our favorite ingredients in the AVOCURL kitchen. AVOCURL is the only essential haircare brand made from edible ingredients - including avocado oil, avocado fruit powders, and avocado butter! We're not the only ones loving our Moisturizing Avocado Scalp Oil.. 
Avocado oil is one of the most beneficial and versatile oils that you can use to take care of your natural hair. Not only does it provide moisture and hydration, but it also helps to restore strength and elasticity to damaged hair. Here are seven reasons why avocado oil is great for natural hair, including avocado oil benefits and uses, tips on how to use avocado oil in your hair routine, and more!
Improves scalp health
"I love the new nozzle because I've been wearing more protective styles and it's really easy to moisturize your scalp and get in everywhere with the new tip!!" - Janae K
Avocado oil is rich in Vitamin E which helps combat scalp dryness, dandruff and seborrheic dermatitis. This can be especially beneficial if you are transitioning from chemical hair care. The natural moisturizer is also perfect for those with low porosity hair because it penetrates deep into the hair shaft and strengthens each strand. Aloe vera and avocado oil make an excellent combination for anyone who is looking to combat flaky or itchy scalp.
Helps maintain moisture
Avocados are a great source of protein, which means they provide many benefits for your hair. The high level of unsaturated fatty acids in avocados help keep moisture in the hair shaft and prevent dryness, breakage, split ends, and brittleness. Plus, the vitamins A and E in avocados promote healthy scalp skin.
Great for conditioning treatments
Avocado oil is a great natural conditioner. It can be used on wet or dry hair as a deep-conditioning treatment, or it can be applied as a leave-in conditioner. It penetrates the hair shaft and nourishes the scalp, repairing damage and restoring shine. This oil also prevents split ends by sealing off the cuticle and smoothing away frizz. In addition, it has the ability to penetrate deeply into your skin without leaving an oily residue.
Non-greasy
Let's clear some things up. Oil is good for your natural hair. Is every oil going to work the same? Of course not. But oil in and of itself is not bad, despite the controversy around whether or not we should be using oils on our hair. One of the biggest myths is that it will leave your strands a greasy mess, but that's also not necessarily true. Even avocado oil on fine hair works wonders. 
What does avocado oil do for your hair? 
Avocados are an excellent source of vitamins A, B, and E. It is also rich in protein and good fats that help promote healthy hair growth. There is a saying you are what you eat which means what we put in our bodies reflects on the outside. The nutrients found in avocados can help promote healthier, shinier, and stronger hair! 
Good source of Vitamin E
Avocados are great sources of Vitamin E. In fact, avocado oil is the best source of vitamin E that we know of. Amazing! Vitamin E is essential for hair growth and healthy skin. It's also important for a healthy immune system and can be used as an anti-inflammatory agent. The reasons to love avocado oil 
Prevents damage from heat tools
A heat protectant, too?! Mhmm! Heat can cause damage to hair, so it's important to use heat-protectant products before using a flat iron or curling iron. However, this is not always enough. Using avocado oil will provide an extra layer of protection from heat damage while nourishing your hair at the same time. In order to maintain healthy hair, it's important to invest in some quality products like avocado oil and conditioner that will keep your hair strong and moisturized.
Growth and strength
Avocados are high in essential fatty acids like oleic acid, linoleic acid, and alpha-lipoic acid, which can help restore hair and scalp health. The avocado seed's protein and minerals can also promote hair growth.